Louisville Community Newsletter #704

•••April 24th, 2019•••
Click Here for the Live Platte River at Louisville Data
------------------------------------------
Today!!!!
Blood Drive
Louisville High School
April 24th, 2019
10:00 am to 4:00 pm
-------------------------------------------
Image courtesy of Louisville Public Library on Facebook
The Louisville Library Board is inviting you:
Come have a piece of cake and wish Darla well as she retires from the library
April 29th, 4-6pm
If you can't make it you can drop a card off for Darla at the Louisville City Office.
-------------------------------------------
-------------------------------------------
Press Release
Contact: Jesse Zweep
402-234-3585 ext. 330
FOR IMMEDIATE RELEASE:
Louisville, Nebraska
Louisville SkillsUSA Students Excel at State Conference
(Louisville, Nebraska) – Louisville high school had 17 students attend the SkillsUSA State Leadership and Skills Conference in Grand Island, Nebraska. Louisville had eleven students earn medals and one student elected to state office. The SkillsUSA state leadership and skills conference hosted over 2,000 students and advisors during the two-day conference held at Fonner Park and the Heartland events center in Grand Island. The SkillsUSA state conference showcases student's talents in over 90 various leadership and technical competitions. Those students who place first in their respective contests have earned a chance to attend the SkillsUSA national leadership and skills contest held in June in Louisville, KY, where over 15,000 SkillsUSA members attend and complete annually from all fifty states.
Max Yarnell, who will be a senior for the 2019 – 2020 school year, was elected as a SkillsUSA Nebraska state officer. Max had to give a speech in front of 140 student delegates, participate in a question and answer session, and campaigned against eight other students hoping to be elected to the seven officer slate. Max's duties as a state officer include; attending the SkillsUSA National Conference in Louisville, KY as a voting delegate for Nebraska, planning and coordinating three conferences during the 2019 – 2020 school year, as well as being an ambassador for SkillsUSA Nebraska to other chapters, business & industry partners throughout the state. Congratulations Max for all your hard work and leadership.
Louisville has six students that qualified for the national conference in Louisville, KY. They include Carsen Knott, Valerie Knott and Isandra Hagge who placed 1st with their community service project. The team of girls hosted several Red Cross blood drives throughout the year collecting over 180 donations. The team also worked with fellow Louisville students Remington Campbell and Max Yarnell to raise awareness and funds for Objective Zero. Objective Zero is a non profit organization dedicated to supporting and helping veterans combat veteran suicide. Together the team raffled off a donated patriotic turkey feather painted by Rebecca Speer, and a frame made by Roger Campbell. All together the team raised over $1,400 to be donated to the Objective Zero organization.
Students Julian Covington, Jaylin Gaston and Garron Bragg placed 1st with their promotional bulletin board designed, based on the 2018 - 2019 SkillsUSA national theme: SkillsUSA champions at work; Career Ready Starts Here. The focus of the project is to promote SkillsUSA to student members and to communicate important information for students involved in local SkillsUSA chapters. The team also had to assemble a portfolio and be interviewed by a team of judges.
Reiley Reed also placed 1st and qualified for the SkillsUSA national conference in the customer service contest. The purpose of the contest evaluates students' proficiency in providing customer service. The contest involves live, role-playing situations. Contestants demonstrate their ability to perform customer service in both written and oral forms including telephone and computer skills, communications, problem solving, conflict resolution and business etiquette.
Several other Louisville students placed at the state conference, they include Parker Manley with a 3rd place in extemporaneous speaking, which has contestants give a three- to five-minute speech on an assigned topic with five minutes of advance preparation. They are judged on voice, mechanics, platform deportment, organization and effectiveness.
Michael Rupp in the medical terminology contest, which evaluates the knowledge of medical terminology and abbreviations of an individual preparing for employment in the health occupations fields.
Two students placed in state only contests. State only contests are for students who choose not to compete at the national contest level, but follow the same rules and guidelines as national contests. Allison Smith placed second in the state only job interview, which is divided into three phases: completion of employment applications; preliminary interviews with receptionist; and, in-depth interviews. Contestants are evaluated on their understanding of employment procedures faced in applying for positions in the occupational areas for which they are training. Lea Kalkowski placed 1st in state only extemporaneous speaking, which again, has contestants give a three- to five-minute speech on an assigned topic.
Students also completed in many other contests, these students did not place, but certainly enjoyed their competitions and represented Louisville well. Remington Campbell, Max Yarnell and Jed McFarland competed in welding fabrication, which is a team competition that requires three students from each school to use their welding and fabrication skills to build a designed project from the given material. Each team is required to be skilled in the following welding and cutting processes: SMAW, GTAW, GMAW, FCAW and OFC. Ethan Michalski competed in technical drafting, which evaluates the contestant's preparation for employment in the field of technical drafting. The contest focuses on applying appropriate technical drafting skills and tools which include computer-aided drafting (CAD).
Two teams competed in crime scene investigation. The team of Lea Kalkowski, Allison Smith and Isandra Hagge and team of Skylar Pollock, Faye Jacobsen and Madison Nolte. Both teams investigated a crime scene and briefed as to the situation. The contestants will, as a three-person team, process the crime scene. They will legally search for, properly collect and remove evidence of the crime. One member of the team will be required to lift a latent fingerprint from a pre-selected item of evidence. After the scene has been processed, the contestants will write their report, draw the crime scene sketch and mark their evidence.
Jaylin Gaston competed in the medical math contest, which has contestants demonstrate their knowledge of general math concepts used in the healthcare fields. They complete a written test that may include the use of ratio/proportion, dosage calculation, metric and household equivalents, Roman numerals, abbreviations, and general math including percentages, among other medical math-related problems. Cassidy Niemoth competed in the commercial baking contest, which challenges contestants to meet production and quality standards expected by industry. Students must scale, mix, prepare and bake products (including breads, rolls, Danish, cookies and pies) and demonstrate cake-decorating skills. They must deliver a quality, salable product while working efficiently and under job-like conditions
Academic achievement awards were given to Remington Campbell, Julian Covington, Jaylin Gaston, Faye Jacobsen, Lea Kalkowski, Carsen Knott, Valerie Knott, Jed McFarland, Ethan Michalski, Cassidy Niemoth, Skylar Pollock, Reiley Reed, Michael Rupp, Allison Smith and Max Yarnell or holding a 3.5 GPA or higher as an active SkillsUSA Member. Louisville students also received the Distinguished Ambassador Award. This award is presented to students who attend all three SkillsUSA conferences throughout the year. They include Julian Covington, Ethan Michalski, Reiley Reed, Michael Rupp and Max Yarnell.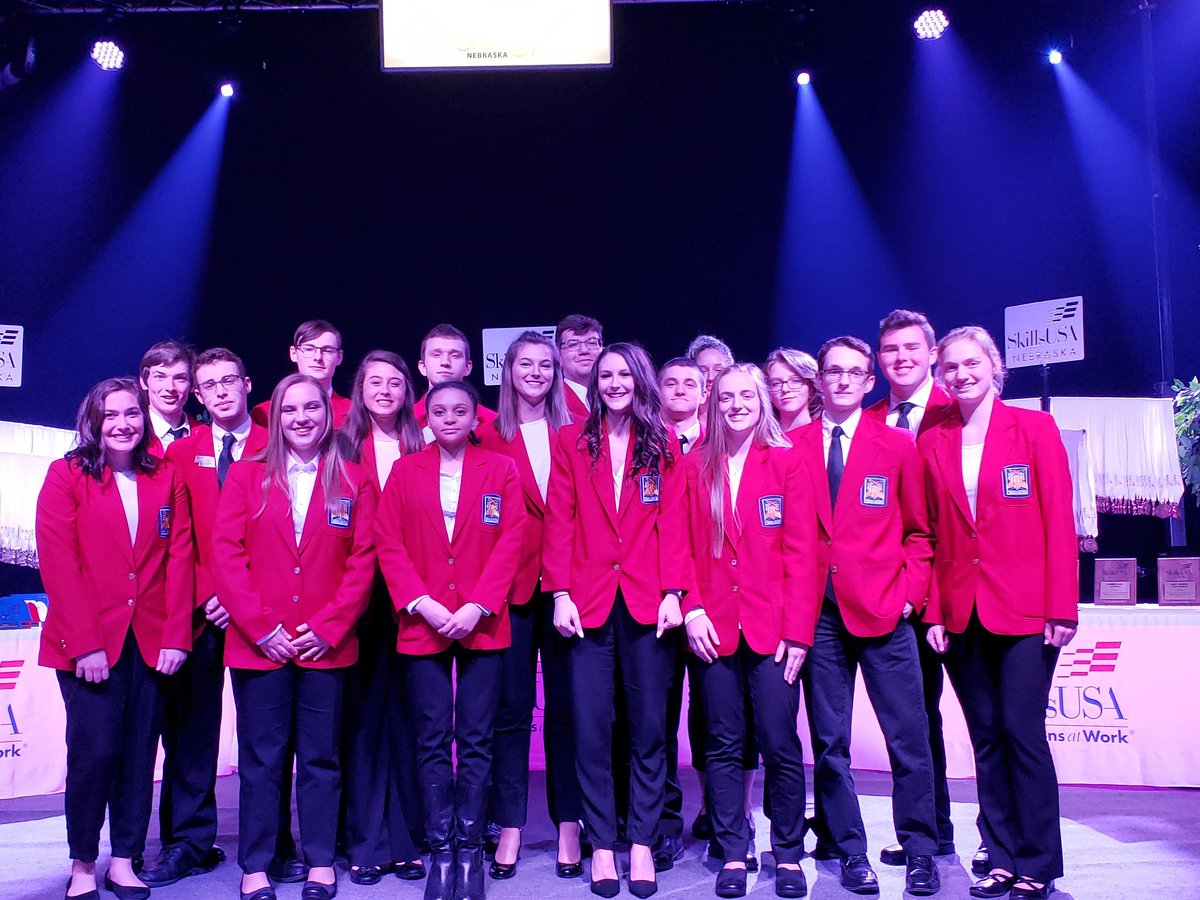 Louisville Students at State SkillsUSA meet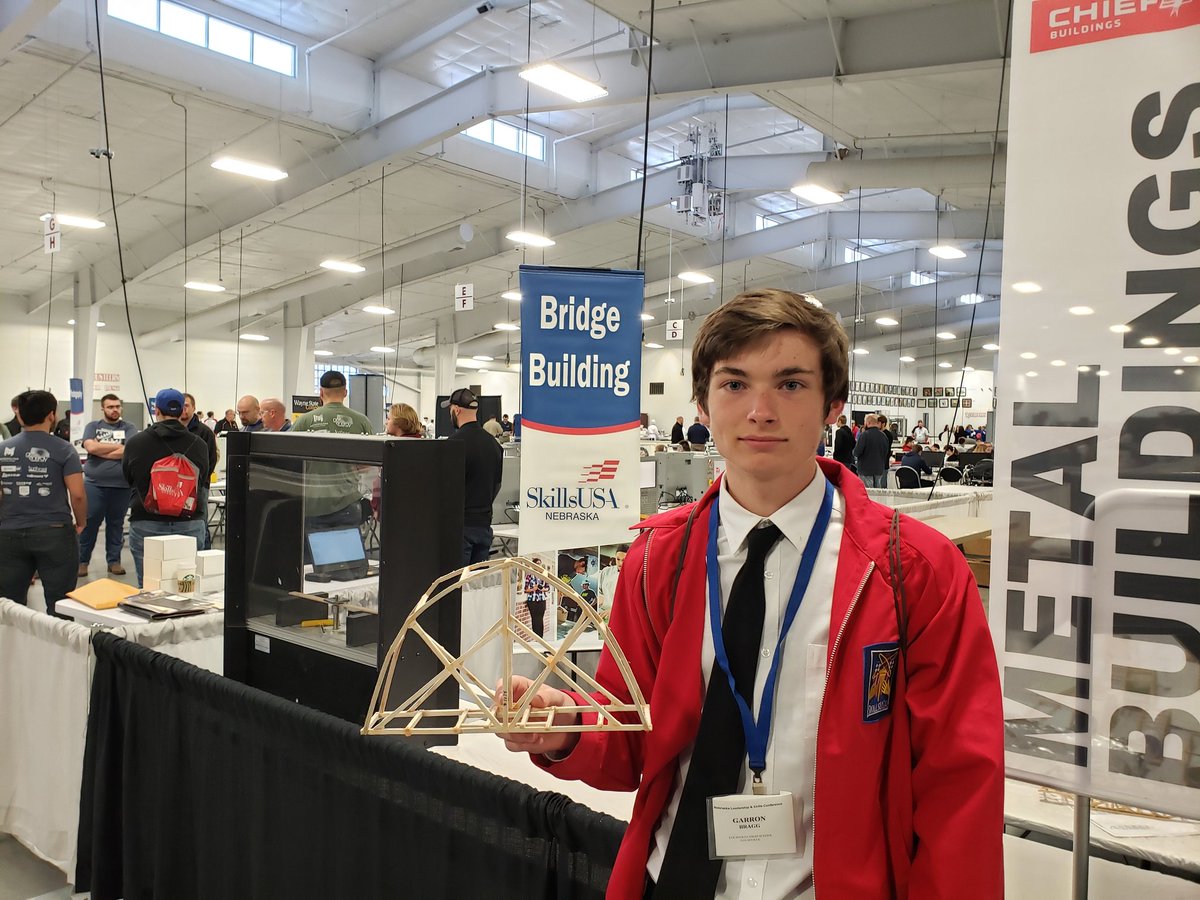 Garron with his Balsa wood bridge design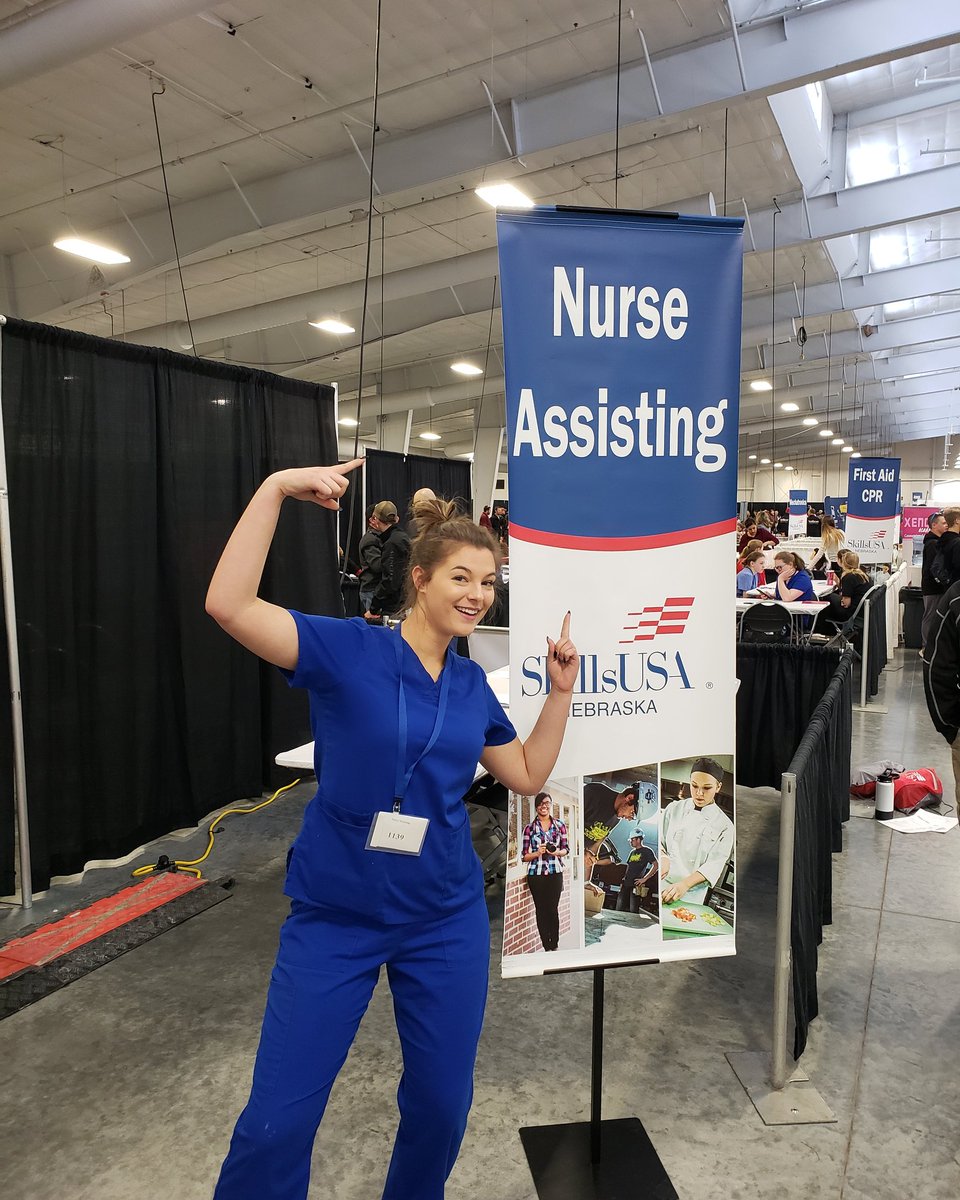 Val competed in the Nurse Assisting contest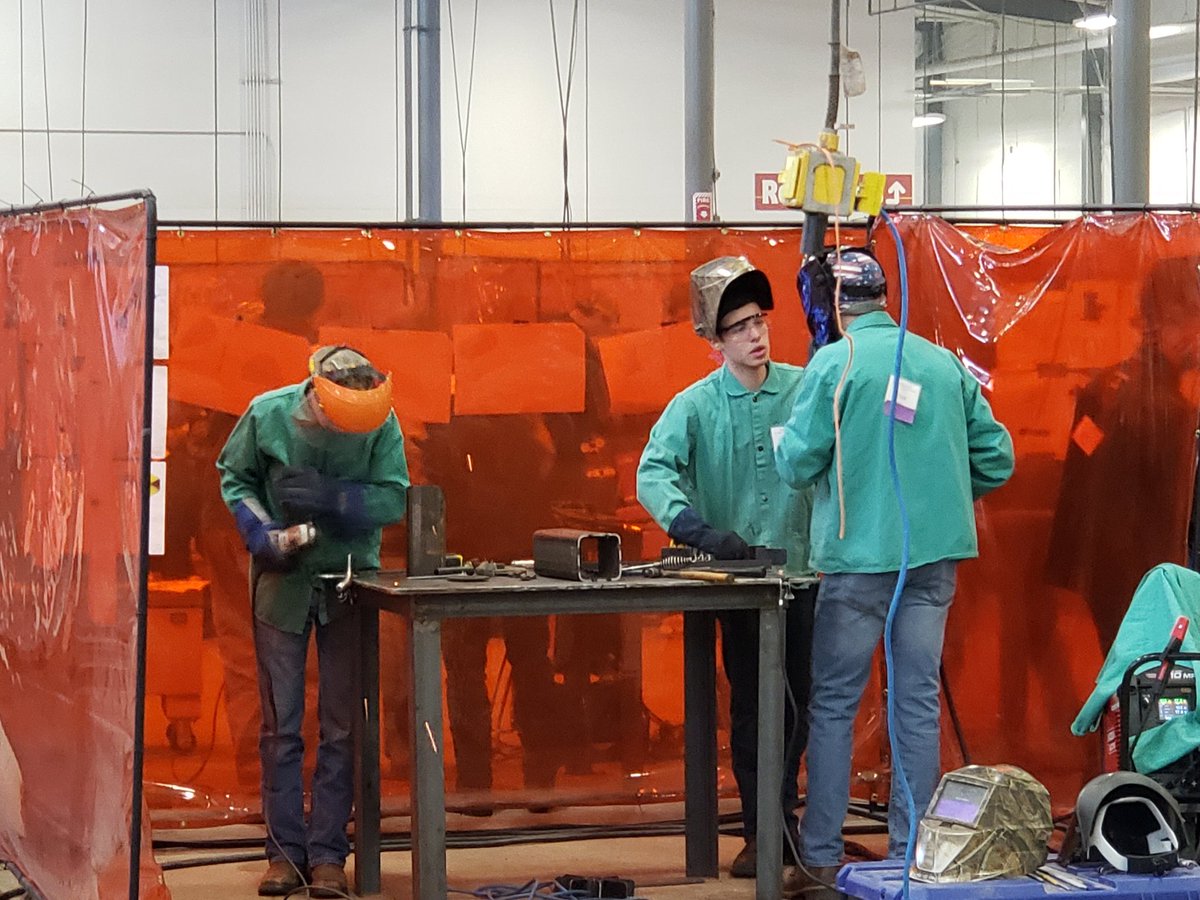 Welding team of Max, Remington and Jed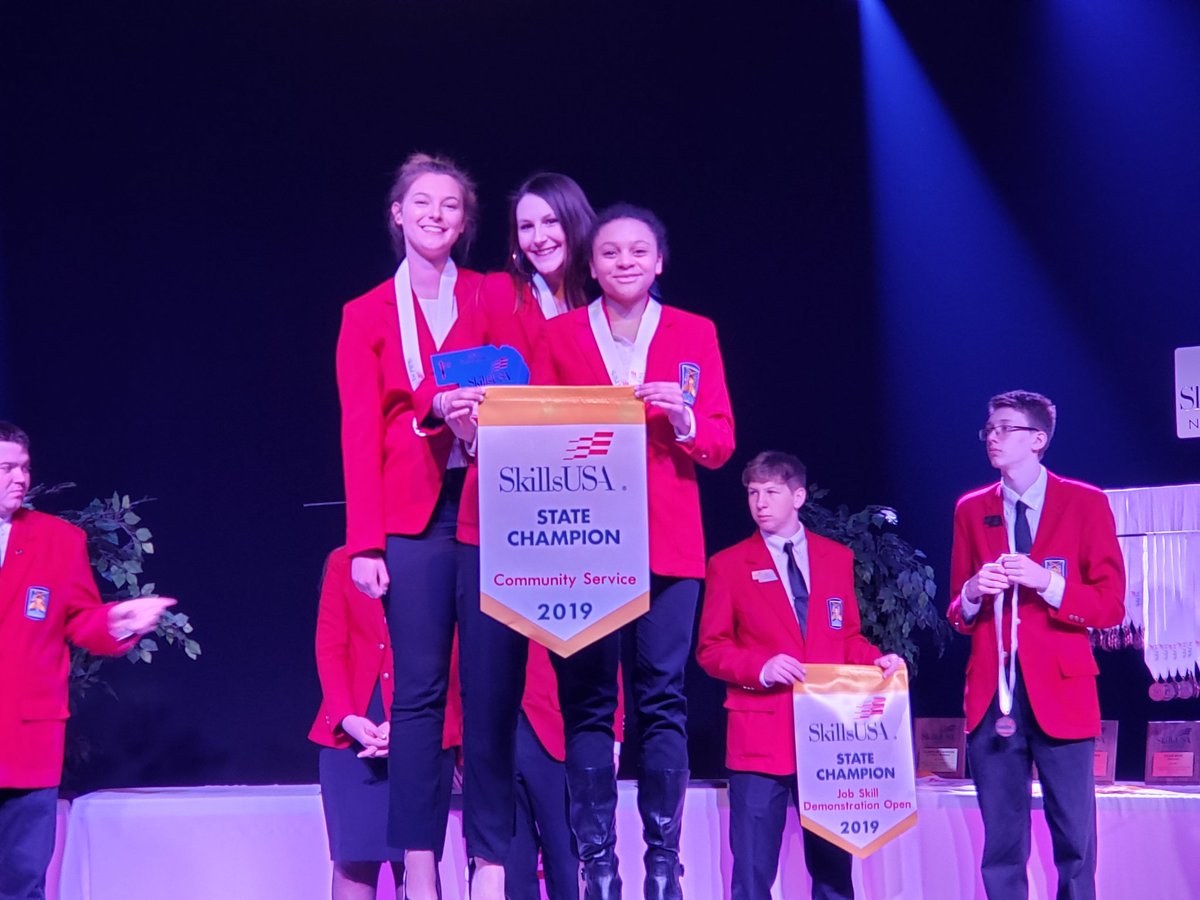 Carsen, Val and Isandra placed 1st in community service contest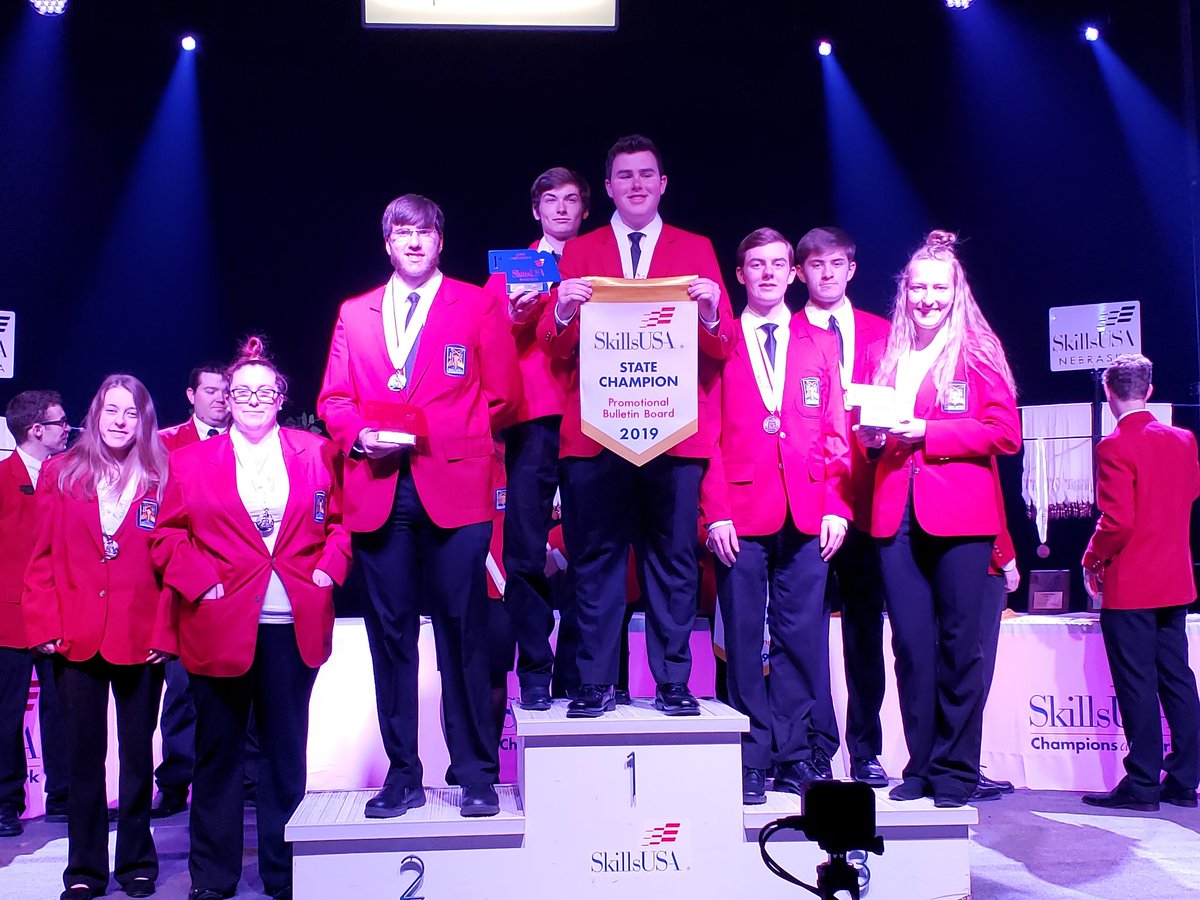 Julian, Jaylin and Garron placed 1st place promotional bulletin board contest
Images courtesy of Mr. Zweep on Twitter, click here for more photos!
More information about SkillsUSA:
SkillsUSA is a national membership association serving high school, college and middle school students who are preparing for careers in trade, technical and skilled service occupations, including health occupations, and for further education. SkillsUSA is a partnership of students, teachers and industry working together to ensure America has a skilled workforce. SkillsUSA helps each student excel.
SkillsUSA empowers its members to become world-class workers, leaders and responsible American citizens. SkillsUSA improves the quality of our nation's future skilled workforce through the development of Framework skills that include personal, workplace and technical skills grounded in academics.
------------------------------------------
Pitch Hit and Run
May 4th
To sign up visit here!
-----------------------------------------------
Lions Booster Golf Tournament!
Click here for a printable PDF!
-----------------------------------------------
2019 SPRING & SUMMER SATURDAY SHOW SCHEDULE:
April 27 - Rick Stephens & Friends
May 11 - Almost Good with John and Bonnie Stephens
May 25 - Alex Vanderbeak & Friends
June 8 - Rayne McGill & Friends
June 22 - Frank Bigelow Group
July 6 - Down Home Band
July 20 - Roger Roberts & Friends
August 3 - Lucas Minor & Friends
August 17 - Larry Hanson & Company
-----------------------------------------------
Louisville Community Poster - Download (Click Here)
(download and post this Poster, Text a Picture of it to 402-968-0821 - get $1 via PayPal - limit 1)
-----------------------------------------------


-------------------------------------------
Click Here to Sign Up for the Wednesday Morning Louisville Newsletter
Share This Aricle on Facebook - Click Top Left - or Mobile Bottom Right
------------------------------------
-----------------------------------
Details and auction inventory at www.gpsold.com
----------------------------------
To get your news paragraph, or announcement included into next Louisville newsletter, please send your information to editor@LouisvilleNebraska.com by 8am on Monday morning!
Area News
We are looking for our ancestors. Everett, and Chidester. The Everetts, settled there about 1860. John Everett came there from England around 1860 and bought a farm. He had a son named Cluadius who had a son named Edward, who had a son named Austin. Any way if you could help us find some of our family it would be great to meet as many as we could. Thank you, I look forward to your reply. Ken Everett, in Montana. Please reach Ken at mtkeneverett@gmail.com if you have any information that may help him!
----------------------------------
Colorectal cancer is the third most common cancer and the second leading cause of cancer-related deaths among men and women in the United States. An estimated 108,000 new cases will be diagnosed each year. Regular colorectal cancer screenings can detect colorectal cancer early when the chances for cure are best. Because of this, the Sarpy/Cass Health Department is offering free fecal occult blood test (FOBT) home screening kits to both men and women between the ages of 50 and 74 years. The screening kits are available at the Health Department's office at 701 Olson Drive, Suite 101, Papillion, Monday-Friday 8:00 a.m. to 4:30 p.m. Call (402) 537-6969 for more information.
----------------------------------
----------------------------------
-----------------------------------------------
-----------------------------------------------
-----------------------------------------------
----------------------------------------------
-------------------------------------------------------------
The university is hosting a conference for people interested in building entrepreneurial communities throughout Nebraska. It will be held in Beatrice, NE on April 24-25, 2019. Those who attend this conference will join other like-minded communities to learn programs and resources, share best practices and ideas, empower themselves and assist entrepreneurs to grow the local community. Continue reading to learn more: https://communityvitality.unl.edu/connecting-entrepreneurial-communities
-----------------------------------------------
-----------------------------------------------
-----------------------------------------------
-----------------------------------------------
-----------------------------------------------
-----------------------------------------------
-----------------------------------------------
-----------------------------------------------
Get an "Ear Full of Cass News"
Click Here for the April 15th - CassGram Audio Report
-------------------------------------------
Click Here to Sign Up for the Louisville Newsletter
---
Support Our Neighbors
Click to Read todays SpringfieldNebraska Newsletter
Click to Read todays PlattsmouthNebraska Newsletter
Click to Read todays WeepingWaterNebraska Newsletter
Click to Read todays GreenwoodNebraska Newsletter
Click to Read todays NehawkaNebraska Newsletter
Click to Read todays CedarCreekNebraska Newsletter
Click to Read todays AvocaNebraska Newsletter
Click to Read todays ElmwoodNebraska Newsletter
Click to Read todays MurdockNebraska Newsletter
Click to Read todays LouisvilleNebraska Newsletter
Click to Read todays EagleNebraska Newsletter
Click to Read todays MurrayNebraska Newsletter
Click to Read todays UnadillaNebraska Newsletter
Click to Read todays UnionNebraska Newsletter
Click to Read todays AlvoNebraska Newsletter
Click to Read todays ManleyNebraska Newsletter
To get your news paragraph, or announcement included into next Louisville newsletter, please send your information to editor@LouisvilleNebraska.com by 8am on Monday morning.

Katie Alvarado, Editor

Wirebuilt Co. / Nebraska Community Websites Project has been supporting Louisville, Nebraska community website since Spring of year 2000 when website was created as a millenium gift to the community. We strive to provide accurate and relevant information for Lousiville area citizens, you can submit your news, birthday or anniversary note, local event information free of charge to editor@louisvillenebraska.com to be included into the newsletter.
Please, support the following businesses that sponsor the Louisville Newsletter:

Community Sustaining Sponsors 2019
Interested in becoming a Sponsor - Read More
========================================

2019 Community Sustaining Sponsor

2019 Community Sustaining Sponsor

2019 Community Sustaining Sponsor

2019 Community Sustaining Sponsor

2019 Community Sustaining Sponsor

2019 Community Sustaining Sponsor

2019 Community Sustaining Sponsor


2019 Community Sustaining Sponsor

2019 Community Sustaining Sponsor

2019 Community Sustaining Sponsor

2019 Community Sustaining Sponsor

2019 Community Sustaining Sponsor

2019 Community Sustaining Sponsor

2019 Community Sustaining Sponsor
2019 Community Sustaining Sponsor

2019 Community Sustaining Sponsor
2019 Community Sustaining Sponsor